Wyszukiwarka
Zaloguj się
Producenci
Promocje
Produkt dnia
Blackmagic Audio Monitor 12G
Cena:
5 995,00 zł
5995.00
dodaj do przechowalni
Opis
Blackmagic Audio Monitor 12G zapewnia najwyższej klasy monitorowanie dźwięku w kompaktowym formacie 1RU. Posiada dwa subwoofery z szerokopasmowymi głośnikami dla rewelacyjnego dźwięku, wspierane przez potężny wzmacniacz klasy A/B.
To precyzyjne urządzenie zawiera wejście dla sygnału audio/wideo 12G-SDI, a także rozmaite dedykowane wejścia audio: zbalansowane analogowe XLR, zbalansowane cyfrowe AES/EBU i konsumenckie hifi.

Elegancki przedni panel ma jasne wielokolorowe mierniki poziomów audio oraz wbudowany wyświetlacz LCD do podglądu obrazu, a z tyłu jest dodatkowo wyjście HDMI 4K do monitorowania na dużym ekranie.
Connections
SDI Video Inputs
1
SDI Video Outputs
1 loop out.
SDI Rates
270Mb, 1.5G, 3G, 6G, 12G.
HDMI 2.0 Video Outputs
1
Multi Rate Support
SDI and HDMI are switchable between standard definition, high definition and ultra high definition.
SDI Video Loop
1 x reclocked 10‑bit SD/HD/3G‑SDI, 6G‑SDI and 12G‑SDI.
Analog Audio Inputs
2 x XLR. 2 x RCA HiFi.
Analog Audio Outputs
1 x 6.5mm headphone socket.
Digital Audio Inputs
1 x XLR.
Built in Speaker
Stereo with 2‑way crossover and independent stereo subwoofers.
AES/EBU Audio Inputs
2 channels balanced 110Ω AES/EBU via XLR.
SDI Audio Inputs
16 channels embedded in SD, HD and UltraHD 4K.
SDI Audio Outputs
16 channels embedded audio loop out.
HDMI Audio Outputs
8 Channels embedded in SD, HD and 4K.
Ethernet
1Gb/sec for configuration and firmware updates.
Computer Interface
USB‑C for configuration and firmware updates.
Metering
2 x 27 RGB segment LED VU, PPM or Loudness meters.
Modes
Push button interface allows for input selection, channel selection, independent left and right audio, mute and volume control with scroll wheel.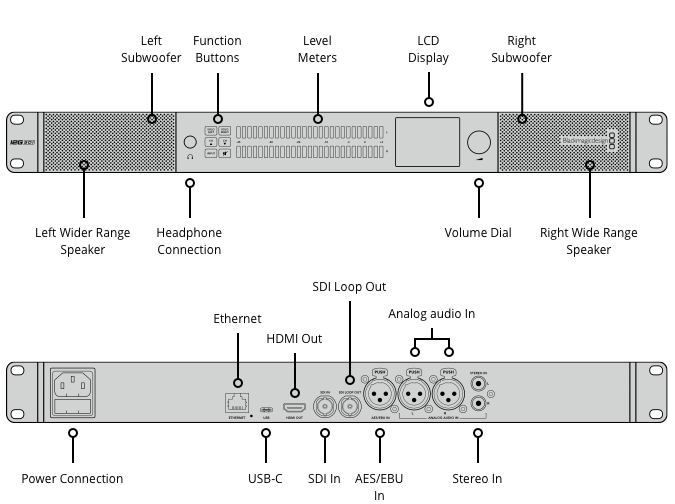 Standards
SD Video Standards
525i59.94 NTSC, 625i50 PAL
HD Video Standards
720p50, 720p59.94, 720p60, 1080p23.98, 1080p24, 1080p25, 1080p29.97, 1080p30, 1080p50, 1080p59.94, 1080p60, 1080PsF23.98, 1080PsF24, 1080PsF25, 1080PsF29.97, 1080PsF30, 1080i50, 1080i59.94, 1080i60
2K Video Standards
2K DCI 23.98p, 2K DCI 24p, 2K DCI 25p, 2K 23.98PsF, 2K 24PsF, 2K 25PsF
Ultra HD Video Standards
2160p23.98, 2160p24, 2160p25, 2160p29.97, 2160p30, 2160p50, 2160p59.94, 2160p60
4K Video Standards
4KDCIp23.98, 4KDCIp24, 4KDCIp25, 4KDCIp29.97, 4KDCIp30, 4KDCIp50, 4KDCIp59.94, 4KDCIp60
SDI Compliance
SMPTE 259M, SMPTE 292M, SMPTE 296M, SMPTE 372M, SMPTE 424M, SMPTE 425M Level A and B, SMPTE 2081‑1, SMPTE 2081‑10, SMPTE 2082‑1 and SMPTE 2082‑10
SDI Auto Switching
Automatically selects between SD, HD, 3G‑SDI Level A and B, 6G‑SDI and 12G‑SDI.
Audio Sampling
96 KHz and 24 bit.
Video Sampling
4:2:2 and 4:4:4
Audio Meter Ballistics
54 RGB segment LEDs allowing selection of metering with VU, PPM EBU, PPM BBC or Loudness. Includes replaceable level scale.
Control
Built-in Control Panel
2.2 inch display for viewing video input, video standard and selected audio input.
Software
Internal Software Upgrade
Via USB connection and Ethernet
Display
Display Element
2.2 inch diagonal color LCD.
Display Resolution
320 x 240.
Input Display
SDI video, format, audio type and audio channels.
Power Requirements
Power Supply
1 x Internal 100 - 240V AC.
Power Usage
55 Watts
Opinie o produkcie (0)